Judo European Championships Warsaw 2017

Чемпионат Европы по дзюдо в Варшаве, Польша.

#JudoWarsaw2017

https://www.youtube.com/playlist?list=PLtRnVSZywtZbKvRzvlbWXmdd8DgUsqEhD
Похожие видео
12 мес. назад
IRREPRESSIBLE GEORGIA'S REIGN AS TOP MEN'S TEAM CONTINUES Day four of competition at the European championships in Warsaw ended with Georgia triumphant in retaining the Men's team title. Despite the absence of Georgian talisman Varlam LIPARTELIANI, Avtandil TCHRIKISHVILI and Nugzari TATALASHVILI, the Georgians were nevertheless able to field a team strong enough to withstand the challenge posed by Europe's best #JudoWarsaw2017 #GeorgianJudo #RussianJudo https://www.youtube.com/playlist?list=PLtRnVSZywtZbKvRzvlbWXmdd8DgUsqEhD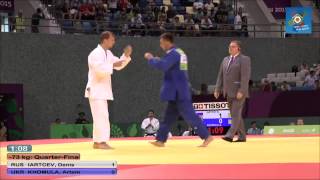 33 мес. назад
Russia vs Ukraine European judo teams championships - Baku 2015 Judo - Teams champinships European games Baku 2015 Mikhail Pulyaev vs Giorgi Zantaraia Denis Iartcev vs Artem Khomula Alan Khubetsov vs Vitalii Dudchyk Kirill Voprosov vs Vadim Synyavsky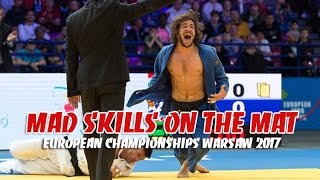 12 мес. назад
Some great skills and magic moves from the European Judo Championships Warsaw 2017 KHUBETSOV Alan: Sode One Hand, MAMMADOV, Elkhan : Sode One Hand, ZANTARAIA Georgii : Front Uchi Mata, HEYDAROV Hidayat : Okuri Eri jime, Cyrille Maret : Taï Otochi, TUSHISHVILI Guram : Osoto Gari, LIPARTELIANI Varlam : Sassae Tsuri Komi Goshi, ORUJOV Rustam : O Uchi Gari, REKHVIASHVILI Zebeda : Reverse Seoi Nage, KUKOLJ Aleksandar : Uchi Mata Enjoy !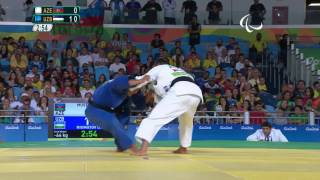 19 мес. назад
Men's -66kg Gold Medal Contest GOLD MEDAL: NIGMATOV Utkirjon UZB B3 BLUE SILVER MEDAL: MUSTAFAYEV Bayram AZE B2 WHITE For more information on the Rio 2016 Paralympic Game, please visit http://www.paralympic.org/rio-2016 Like us: https://www.facebook.com/Paralympics and follow us: https://www.twitter.com/paralympics The Rio 2016 Paralympic Games were held from 7-18 September 2016. Athletes from more than 160 countries competed in 528 medal events in 22 different sports.
13 мес. назад
Ismayilov takes the gold at -81kg! The home crowd erupt as the local boy scores wazari with a drop seoi nage against Iran's Mollaei! The day ends with the Azerbaijan anthem playing out to the stadium. Grand Slam Baku 2017 #JudoBaku2017
7 мес. назад
Junior European Judo Championships 2017 Maribor ( Slovonia) AZERBAIJAN DOWN GEORGIA TO CAPTURE JUNIOR TEAM TITLE FOR THE FIRST TIME. The final day of competition saw Azerbaijan take the gold medal in the team event at the Junior European Championships in Maribor, Slovenia. By defeating reigning champions Georgia by a score of 3-2 in the final, the Azeri team will have gained some degree of revenge having finished as runners-up last year in Malaga. Seeded second, Azerbaijan had the benefit of a first round bye before coming up against Ukraine in round two. A surprisingly strong effort from the Ukrainians saw Azerbaijan pushed to the final contest of the match where Selym KOTSOIEV (AZE) scored an ippon win over Mykyta MATLASHEVSKYI (UKR) to give the Azeri's a 3-2 win. In the quarter final Azerbaijan faced Finland who were shock 3-2 winners over France. However, that was as far as the giant-killing went, the Finns going down by a score of 4-1. In the semi final it was the turn of Italy to pressure Azerbaijan who were again pushed close yet it was once more Kotsoiev who closed for Azerbaijan and another 3-2 win. Playlist * Judo Maribor 2017* =====https://www.youtube.com/playlist?list=PLtRnVSZywtZZx0xRt7hcC6XzaWM3d--_U============= #JudoMaribor2017 #judo #judo2017 #Judozvezasloveija ======Подписываемся на мой канал======================== https://www.youtube.com/channel/UCTG64GMmeQyI9a3Narl5Gxg?view_as=public
14 мес. назад
Подписывайтесь на мой канал в ютубе, чтобы не пропустить следующие видео.
7 мес. назад
Judo Grand-Prix Zagreb 2017 Playlist *Judo Zagreb 2017* =====https://www.youtube.com/playlist?list=PLtRnVSZywtZatQTZY6Ywr1TGE_sZSor4W============= #JudoZagrebr2017 #judo #judo2017 #CROJudo #teddyriner #judofrance ======Подписываемся на мой канал======================== https://www.youtube.com/channel/UCTG64GMmeQyI9a3Narl5Gxg?view_as=public
7 мес. назад
МИХАЙЛИН Александр - ШАХБАЗОВ Руслан 1/4 +100 кг Дзюдо Чемпионат России 2017 Нальчик Кабардино-Балкария Легенда Дзюдо на Чемпионате России 2017 Judo championship of Russia in 2017, championship of Russia, Russian championship, Russian League Если у Вас есть мнение по этому видео ставьте лайк и пишите комментарий. Единоборец ТВ edinoborec TV Боевое САМБО Combat SAMBO боец борцы боксёры мма mma bjj бжж ufc рукопашный бой самбо sambo judo ippon дзюдо иппон brazilian jiu-jitsu fight wrestling highlight Fight Nights Bellator нокаут knockout https://vk.com/public137104675 https://vk.com/id282971101 https://www.ok.ru/profile/557741872128 https://ok.ru/group/54874535165952 https://www.instagram.com/edinoborectv_youtube_channel/